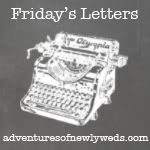 I thought I'd switch it up this Friday because I saw this really great link up!
You have been especially funny this week. I love working with you from home and in ministry. You love me in a way I have never known before and I love you so much for that.
Why did you come so early? I feel unprepared in both the money department and the idea department. Please cut me a little slack and slow down a bit or at the very least, toss me some ideas!
Thank you for always wanting to go crazy and spend all your money on us kids for Christmas. Although we don't need it, I love the gifts you choose for me like that cute little owl you found the other day at Kohls.
I cannot believe how busy you were this morning. I was getting a little stressed out with how many people were in your small store. However, thanks for the almost done right caramel macchiato that I ordered.
You keep fighting sweet girl! You're doing so awesome and you're finally in remission! Be strong for mama and give her lots of kisses and remind her that Jesus will take care of you both! I love you so much baby girl!
Words cannot express how great you have been. I love the friendships that we have formed in such a short time. Especially yours Teressa. You are such an encouragement to me and love that we text all the time like very best friends! :)
You are so good to me. You see my needs and then meet them. Every time. You have been faithful when I am not. You are glory and You are beautiful. You are my King and I will always choose to praise Your Name. Jesus, you are more awesome than any words of mine could ever express.