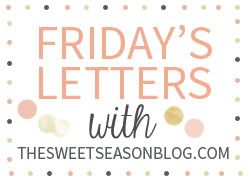 Tanya, you have been the best friend I could have ever asked for. There's so much you do for me and I am so thankful. You listen to me rant on and on about all the things going on in my life and you're nothing but encouraging. I have truly never had a friend like you. Thank you for caring so deeply for me and always being you. I love our friendship and that when we get together after being apart for while, you can't shut us up :) Excited to see you next weekend and even more excited to see little Lennon make her appearance in this world. You're going to be such a good mommy! I love you BFFL.
Teressa
, I was eating some really healthy dinner yesterday and it made me think how grateful I am for you. I know it might seem like a small thing, but, you have taught me so much about eating healthy and I really appreciate it. I wish we lived in the same state because I know we would be the best "real life" friends as well as bloggy BFFS. Thank you for always being the friend who knows exactly how I feel in ministry, always encouraging me in my marriage and walk with The Lord. I cannot wait to officially meet and spend the weekend together at the
Influence Conference
!!
Stephanie
, You are one of those friends that God knew I needed. I have been so blessed just by knowing you. Who sends a complete stranger amazing scripture cards, an encouragement note and a beautiful blanket with a scripture I hold very close to my heart? YOU! You do that because you're amazing and loving and have Jesus living in you! I am so grateful for all of the truth you have spoken into my life and that you cared about me when I was really struggling with anxiety. Thank you for being you
.
Nathan, hey babe :) I love you. I know these last few months have been really stressful but I know it will all be worth it. I am sorry any unkind words I have spoken to you in the middle of all we have going on right now, please know I love you. It's weird because I used to wonder what it would be like to marry you..and now that I know, it's better than I could have ever imagined. I really do feel like the luckiest girl ever. You do so much for me and I know the love you show me isn't easy to come by. Forever and always PBNFH.
Old Home, You will be missed. I will always remember you as the very first home my husband and I shared together. The home we remodeled on our own. The home were we shared secrets and dreams of what might come in the years ahead. So happy to have those memories.
New Home, We are so excited for the day we get to move in! We have been waiting almost 2 years for this and are so glad we found you! Everything we could have possibly been wanting & needing in a home, we found have found. Here's to many early mornings & late nights. To swimming until we are crinkly. To laying out in the grass and looking at the stars. To sipping coffee on the front porch. To growing old together.
My Jesus, this week.. has been weird. I am not sure how else to describe it. I have had so many highs and lows and my emotions seem to be all over the place. Yet, YOU, have remained constant. In these times, I feel you near more than ever. You meet me in the midst of these moments as I cry out to you in the night. I know you hear me and you comforted me. I am so thankful for this. Thank you for loving me and being my everything. Please reveal Yourself to others as you have to me, especially in their most difficult times. I love you so much.