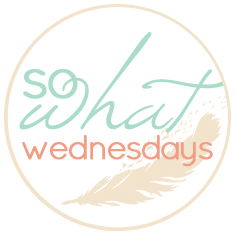 Glad to be back doing So What Wednesday's this week :)
SO What IF:
It's been 5 days since returning from camp and I am still not caught up on sleep. I slept ONE hour the first night and an average of 5 the next 4. I'm getting old.
I would still rather be at camp right now. You know you're called to youth ministry when you're willing to never sleep again for it.. ;)
I gained 4 pounds at camp. Yes, I'm serious. Do you even know what kind of food they serve?! I mean come on people, soft serve ice cream with every meal is unnecessary (and delicious!)
I'm sad about selling our home. Even though we haven't lived in it for a year, I still miss it. It was our very first home together.
I caved and let my husband go grab us some free iPhone 5's at Best Buy the other day.. Listen, as badly as I want the new one, there is no way I am throwing down $400 for 2 new phones. That's just ridiculous people.
I haven't gone grocery shopping in 2 weeks & we have been eating out too much. I just don't feel like it and we have been so busy.
I went back to bed this morning when Nathan had to go meet with someone.
It's going to be 117 degrees this Saturday & we have an outdoor event scheduled (insert whine here!)
I have gone picture crazzzyy with our new youth camera. Look out!
I haven't shared but one camp picture.. they're coming I promise.. We got some sa-weet shots with the new camera!
I really just want to blog all day but have I to work in 8 minutes.. boo!
I realized I hate pictures of myself because of my posture, so 'Operation, stand up straight' is underway. This is legit people.
Have such a wonderful week friends!