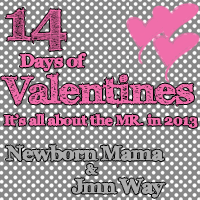 Teressa, my very best bloggy friend, came up with a brilliant idea for Valentine's day this year. And I mean brilliant.
She

sent me a text a

while back explaining her idea and asked if I wanted to join and of course I wanted to!
For the 14 days leading up to Valentine's Day, she would do something nice for her hubby. By nice, I mean, go out of her way to do something thoughtful for him in a way that would show she loved him. For 14 days, when the rest of the world is waiting for their men to surprise them with something or cater to them, we'll be making this Valentine's Day "All about the MR."
The reason I

LOVE

this idea is because, Nathan loathes V-day, friends. He thinks it's a stupid reason to have to buy gifts and girls get all disappointed if their guys don't go all out. I actually agree with him. The reason being, those things should be done on a daily basis for the one we love. Maybe not extravagant gifts or spending lots of money, but we should be willing to love our spouses in every way, all year long. If Nathan wasn't already really good at this, then I'd expect more on Valentine's day.. but he is, and for that I am very grateful.
So, naturally, I jumped at the opportunity. We could show our husbands how much we loved and appreciated them without expecting anything in return. At first, I was like, aw.. what about me.. wahh.. Then I was like, ya I probably need to do this so I'll stop being so selfish. ;)
Our challenge to you lovely ladies is to come along side us to show your husbands(or boyfriends or fiancees) how much you love and appreciate him! I know we aren't giving you much time to prepare but consider the benefit of it before you write it off. Here's how we'll work this out.. Friday the 8th and Friday the 15th, we'll have you lovely ladies link up with a post about what you did for your husband that week. You can include as many pictures as you want, his reaction, whatever! Be sure to grab our handy-dandy new button :)
Get creative girls! No, I don't think you should buy him roses and little teddy bears, but do things for him you KNOW he will like. If you know his "love language" do things that would cater to that. If you know he likes nights at home with you, make time for it. If your husband loves food (because all men do) make him a couple of really awesome meals. Here are a couple of ideas to get you sta

rted

.. and be sure to check out Teressa's blog later today to find out some of her ideas! After all, she IS the master mind behind all of this! All I did was make a silly little button ;)
-->
I have my "real

" ideas

in a word doc scheduled by date.. but I can't show you any of

them

because 1.

my husband might kill me ;) and 2. He will most certainly r

ead this and ruin everything.
Nathan's love language is 'Acts of Service' so I am going to try and do as much of that as possible.
-Do something on the 1st to kick it off.. a note on the mirror, a note in the car..wherever your hubs

will find it.
-Bake him something yumm

y
-Give him coupons for various things
-Get smokin' hot ready every morning ;)
-

Coffee when not expecting it.
-Leave him notes with little gifts..
And on V-day plan something awesome that's sure to

rock his world.
Would love to hear your ideas and have you join us!!