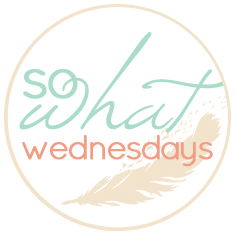 Linking up with the lovely
Shannon
this week
SO What If:
I wrote a post for today but decided to post this one instead. Maybe another time.
I have 26 unpublished posts. Sometimes I just write for me and decide I don't want to share.
I caved and created a
Facebook
Page
for my blog. I already have 50 likes. Isn't that sweet? It would make me sooo happy if you liked it too :)
I got some iced coffee from a friend who works at Starbucks. To be exact 2 trenta cups full & I have had some every day for a week. I'm saving money here folks.

I spent a number I refuse to admit at Starbucks this month, thus the coffee at home.
I have entered a million giveaways this week. I used to enter so many and never won. I am really hoping I can win just this one.. called the iPad mini giveaway ;) -Um no joke, I wrote this last week and then won the iPad mini!!
I promised myself I would start working out today right after eating
2, 3
, 4 peanut butter cookies last night!
I bought a work-out shirt at Target just to get me motivated. Who else wants to keep me accountable? PLEASE.
I also bought some other stuff..like a really cute maxi skirt and adorable little shorts that the hubs picked out. #ilovetarget.
I forgot to clean the mirror before I took those pictures.
My legs are stark white. It's winter people.
It is really hard to hit that publish button considering I just uploaded some pictures of myself.
Happy Wednesday Loves. :)