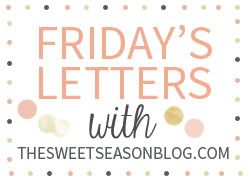 Dear Target, you make it very hard to not buy every single cute mug you have on sale for 2.48. You know I have a thing for cute coffee mugs, especially with our intitials on them. SO thanks a lot.
Dear Oceanside, I'll see you in just 5 short months. I cannot contain my excitement as I cannot wait to be lying on your beach with the hubs. Please show me some love and be extra warm when we are there, OK?
Dear BFFL, Have I ever told you how happy it makes me that my husband's best friend married you? Because now, we are best friends and even though you moved away and crushed my heart, I still love you. I cannot wait to see you tomorrow & more importantly for our girls getaway.
Dear Gizzy, I love you dog but if you don't get a bath soon I may just have to invoke the no cuddle rule. I know you think it's
my
responsibility to bathe you, but it's your fathers.. so go give him that cute stare you give me when you want to go for a walk.
Dear Pook bear nut face hole, you.are.my.favorite. Even though you have decided it's best that I work downstairs and quit bothering you while you're "trying to work," I still love you. I am so excited to be doing life with you. Everything about us, I love. Thank you for always taking the time to show me how much you care about me.
Dear God, Please stir in me a passion for your people. Use me, despite my flaws, to reach the lost, Lord. You have done so much healing in my life in the past month alone I don't even know how to begin to thank you but want you to know I am so grateful for everything You have given me, especially your overwhelming peace these past few weeks. I love you and will forever be yours.
Dear friends, just yesterday I added something exciting to my blog. I am offering an XLARGE Ad space with a TON of exposure The reason I decided to do this was for the sole purpose of raising funds for our Jr. High & High School students for camp this summer. I would LOVE to have you sponsor my blog this month and in turn, sponsor a student! I promise you wont be disappointed! & also, just so we're clear, I love each and every one of my blog friends! Thank you for being so awesome!!