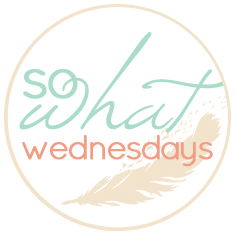 SO What If:
-I just unpacked my suit case from the mini-vaca we took almost 3 weeks ago.
-I couldn't get coconut out of my head yesterday so I ran to the store to get some almond joys, coconut oil and chocolate chip to create the perfect cookie.
-I've started baking twice a week again while on a "diet." I am practicing self control.
-I didn't finish filling out myfitnesspal diary last night after having said cookies & mexican food. I only had one cookie. . & maybe half the dough. PS-Wanna be my friend on there?! jmnway is my user name! :)
-I really need to use the restroom.. but I don't want to get up so I am just going to hold it.
-The bump on my belly is bigger than my BFF's baby bump. I've had it since I was little and trotted around in tweety bird swimsuits. Also, I don't like to do sit ups.
-I am convinced we can afford an all-inclusive vacation so I keep looking up trips online. We can't, but a girl can dream.
-I also convinced myself we could afford Hawaii. Again, I am dreaming. Looks like it'll be California again this year, but I probably won't stop looking.
-We watched the OZ the Great & Powerful in 3D last night. We're nerds & it was awesome.


-If Tuesday nights have inadvertently become our date night. We're that old cool married couple who changes things up.
- I bought the cutest dress but I'm saving to wear on Easter.
Happy Wednesday Friends!