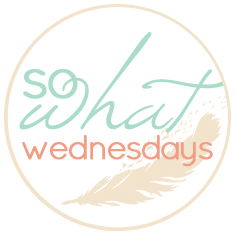 Hi.
It's Wednesday.. and I will always use today as an excuse to do a So What Wednesday post.
SO What If:
-I am really slacking on being a great blogger right now. Sometimes real life must take precedence even when blogging sounds more fun.
-I can't decide on a place to work so I keep dragging my lap top (and chair) all around the house. Sometimes I'm more comfortable on the couch, or the table (actually no, I hate the table!), or the actual desk. The desk is my favorite but my husband says I am too distracting. ;)
-This is the first day this week I actually got dressed in something other than workout shorts and a tank. Even if it is leggings and a long tank.. it's progress.
-I seriously love everything coconut. I have been baking with coconut oil, using coconut creamer, and throwing mounds of coconut flakes in every cookie recipe. I'm thinking it's time to go find a coconut Scentsy fragrance as well.
-I am the grumpiest person in the morning. I don't know what it is, but no matter how long I sleep, I still wake up super tired and annoyed with the world, but mainly my poor husband.
-I found out my BFF is having a girl so I ran out and bought her the cutest little outfit from Target. It's just what I do.
-I ate a bean & cheese burrito yesterday. I just.. I wanted one so bad. Sometimes, it's very hard to eat healthy all the time so I just caved.
-I have a whole closet full of clothes I don't wear and was only able to find 5 shirts I was willing to get rid of. It's not much but I am making some serious progress people!
Happy Wednesday Friends!