When I first started blogging.. and I mean ..way back when I first got married, I found this adorable little free template on someone's website. I wrote ALOT of words and didn't meet anyone. My all-time page views for that blog was 36. THIRTY SIX, friends.
When I started blogging again, I didn't know what to expect. I realized that blogging was a little different than it was before so I just was excited to start writing and was just going to see what happened. I had no idea how incredible this experience would turn out to be. God has used blogging to bless me in a way I've never known.
I don't even know how I stumbled across it, but there is this cool link within blogger that allows you to search for others with the same interests as you. I clicked on youth ministry and wouldn't you know it..my (now) very best blogger friend, Teressa, popped up. Oh, and by the way.. you say her name like this.. Tur ess ah. Not Teresa.
Meeting her began an incredible journey of getting to know so many other awesome girls. Like Cat, Kenzie, Shannon and so many more women who I happen to think are incredible! Needless to say, this blogging experience has been much different than my first!
So anwyays..
Nathan decides at 6 last night he hates my logo.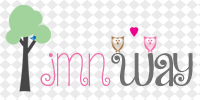 Which is OK for him to say because he did make it, after all but I loved that sweet little logo. It was the first one he made me and it was the beginning of my blog. It makes me a little sad..But he insisted because he has all these ideas..he says.
Listen, I love anything my husband makes me. Dinner, a logo, you know.
I will say that this is the very first time I feel as though my blog is complete. I FINALLY have nice looking buttons, and tabs, and all that stuff. I loved my blog but every time I looked at it I just wanted to clean it up! All of that html code and dumb stuff.. I had to do on my own.
Alright, I didn't have to but I didn't want to pay someone else to do it if I was fully capable.
Friends, Nathan loves this new one so much, he named the owl Scrappy. Why you ask? Because he made him out of scrap booking paper. On photoshop, of course.
I know, my husband is cute. This is why I love him.
I hope you enjoy my new blog as much as I do :)
I'm off for 4 days..can you believe it?! Happy weekend friends!! And MERRY CHRISTMAS!!