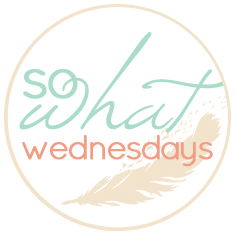 SO WHAT If:
-It's Wednesday and I haven't blogged since last Thursday. Holy cow, we are SO busy.

-I don't have time to blog much this week. Sorry friends, would love to, but time just will not allow.


-I went WAY over our grocery budget this month. I haven't figured out how to eat healthy while on a budget.. tips?
-I made my husband help me rearrange our whole bedroom just so I could sleep under the air vent. My two-story house and I aren't exactly friends.

-I can't stop eating the almond butter I found at Sam's Club. I mean seriously.. it's WAY better than peanut butter. OH MY YUM.

-I like it so much I bought raw almonds today and fully intend on trying to make homemade almond butter.

-I use my food processor at least once a day. I LOVE having one. Thanks sister :)

-I text my BFFL and Bloggy Bestie every day. When you have really amazing friends, you can't help but share life with them. Thank you girls for being so amazing.

-I refuse to work downstairs anymore. I know I annoy my husband.. but I think he secretly likes it ;)

-Our anniversary is in two days and I still haven't gotten my husband anything.. I have time & I already know what I am getting him!

Happy Wednesday Friends!