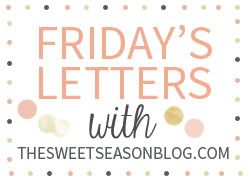 Dear Friday, I have been waiting for you! It has been such a long week and I am so glad to see you.
Dear BFFL, Listen girl, I am dying with excitement for this weekend. Pretty soon we'll be sippin' Starbucks Frapps and laying by the pool with our brand new pedis. Plus, I get to see your cute little baby bump and tell that little who HIS/her favorite aunt is going to be. ;)
Love you friend!
Dear PBNFH, You know I always miss you when I go anywhere.. this weekend will be no exception. I hope you have fun with the boys and win every game. Also, Leroy is so cute.. He actually has some cookies in his belly today if you want one :)
Dear Mom, The ninja food processor-chopper thingy you got us for our anniversary is seriously the coolest. I'm gonna go make some hummus and then maybe a smoothie. Nathan is excited too.. he always wanted a ninja.. ;)
Dear self, I am so proud of you for the cookie recipe you threw together yesterday. I knew one day you would start making your own and they'd be great. I know you ate way too many of said cookies and are feeling like crap today, but it'll pass. Keep up the good work eating healthy, even if you do indulge too much sometimes! (I can't wait to share them all with you all on the blog!)
Sneak Peak :)
Dear Bloggy Friends, One of you lucky ladies WON the $50 Gift Card to Kiki La'Rue.. I am incredibly jealous.. was it you? You can check it out here!


Lord, Thank you for this week and the deep desire you have given us to seek your word together as a couple. Thank you for rest and giving me peace in the midst of feeling overwhelmed. You continuously show me grace, thank you. As always, I love you and will choose to every day of my life.