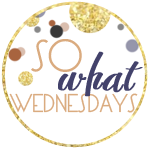 SO What If:
-I'm a terrible speller & I just realized it the other day. I try to type normal words.. like accidentally and want to know why in the world its putting a red mark under it when I spell it like, accidently... Yeah..
- The ring I'm wearing on my finger in place of my absent wedding band is turning it red. My rings are in the "shop" so I don't want to look single.
- I have a desk in my office but only sit at it half the time because the couch in my office is much more comfortable.
-After almost 5 years of marriage, I just bought our very first night stands... today. I often convince myself of the things I don't need when they cost money. Except clothes. I always need clothes.
-Once a month I convince myself I like coffee with creamer & every.single.time. I end up only drinking 2 sips because my husband's coffee tastes like pure death it's so strong.
-It was 90 today and I wore a sweater, leggings, and boots. I refuse to give into this hot weather when it's clearly Fall.
-I haven't used our "budget" since September...To be honest, I'm afraid to go back because I know I have ((probably)) straight up spent all our money.

- I was extra grumpy today and huffed and puffed around the house (very loudly so my husband would hear me) because I couldn't find the car key anywhere. It happens.
-I wrote this post and absolutely NO one commented on it. I think I may have embarrassed myself with the disclosure of all the ranch I eat.
- I've worn my Oh Sweet Joy headband every day since I got it. what?
-I purposely try to insert Y'all in every sentence any chance I get. Let's be honest.. the girls at the Influence conference just sounded so cool saying it.. and I wanted to be cool too until....
-We went to Sonic after youth this week and I simply said "Do y'all have any mustard and mayonnaise?" and the teenager responded (in a very sarcastic tone) "Ya'll? Well Sonic as a corporation does if that's what you mean." Then came back and said "here's your mustard and mayonnaise, Y'ALL have a good night." I just sat their in shock with my mouth open. Apparently it's just not that cool with the young folks.
What are you saying So What to this week?