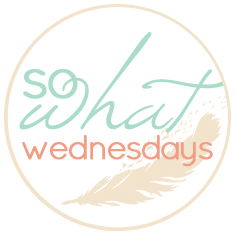 I know so what Wednesdays are you're favorite. No? Well they're mine.

SO What If:


-I already booked our snorkeling/kayaking tour for August. I'm a planner and got us a smokin' deal.
-I am slightly terrified of said tour. I saw my sister get stung by a sting ray when she was little and I have been traumatized ever since. The thought of getting that close to them again is frightening.
-Everytime I see someone holding a Starbucks drink or a picture of one I immediately go into "I must have Starbucks now" mode. First step is admitting you have a problem.
-I'm too lazy to clean my house so I am going to pay some youth students to come do it for me. Everything they earn goes to raising support for camp so, see, I am just helping the cause.
-Nathan and I have decided to mainly talk through emojicons lately. While he is upstairs working and I am down. Ya, didn't you read last weeks post about me being banned from working in the same office because I
might
have a slight issue with leaving him alone ;) Just keeping our marriage alive people.
-Annabell (our dog) chewed up the vegetable garden that my husband has been working on since December. Oh, wait, actually we aren't the least bit OK with that.
-My white board calendar still says February.
-Nathan & I have had dental insurance for years now but failed to make an appointment until this week.
Hey friends, I am guest posting over at
Faith, Love & Hope
later this afternoon and would LOVE for you to check out my answers to an interview with her! I'm letting you in on stuff I didn't know how to verbalize on my own blog until she asked the questions!
Oh, and if you missed my very first Vlog and are just dying to hear my voice you can check it out
here!
Happy Wednesday Friends!