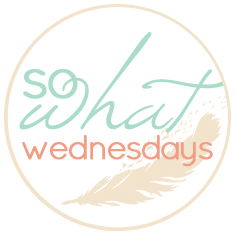 SO What If:
-I missed last weeks edition of So What Wednesday. It happens.
-We stayed up watching Friday Night Lights until 1am. After many people telling us to watch it, we did. As for the 1am thing.. I have no idea what's going on. We are usually in bed by 9, 10 tops.
-I am ridiculously excited to start having a monthly allowance to spend on whatever I want. This may sound weird.. but that way I can limit it and when the money is up, it's up. Yes, this will certainly include my Starbucks addiction. Don't worry, the husband will get an allowance too.. I guess ;)
-I had just made myself a banana oatmeal smoothie and then my husband came home with a Starbucks so I just let the smoothie sit there and get gross while I enjoyed my chai. #firstworldproblems
-I actually got dressed today & yesterday. Wait, that's a good thing.
-Thought it was so sweet when my BFFL told me she loved reading my blog. It's always good to hear people enjoy what you write and hopefully are encouraged by it!
-It was 6 o'clock last night, we had a meeting in 30 minutes and I hadn't prepared anything for dinner. Oops.
-I am loving this new/old love my husband has found in his guitar lately. He is just so darn cute when he plays and sings.
-I lost a follower over the weekend. Well, it does kinda make me sad.. wish I knew who it was. I bet it's because I have very little time to comment on blogs these days.. (however, I DO read them!)
-I get really excited when I see my recipes pinned all over Pinterest. It is pretty cool to see something you love be shared by others as well!
-I have decided I want to be friends with so many new bloggers I have found recently. They are just so darn sweet & cute. However, they all have HUGE blogs with a ton of fans. I can't really see them taking an interest in befriending me..
-I just now discovered the spell check on my blogger template. Um, sorry about that guys.
Happy Wednesday Loves!