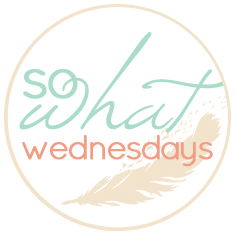 I know, I know, it's been wayyyy too long since one of these.
I will make your day by posting this though, you're welcome.
SO What If:
Our house hasn't sold yet. It's been a day since it's been back on the market, deep breath Jess, deep breath.
I leave for our Mission's trip on Sunday and I have done NOTHING to prepare for it.. well except prayer and reading my Bible. That's all I need anyways right?
I have found a total or TWO gray hairs. Clearly these 'So Whats' really do bother me..
I got mad at my husband the other day for telling me I am turning 26 in a couple months. I honestly did not believe him, I thought I was only 24 :-/
I have been so excited to see Starbucks getting my drink right each time that I smile really big and say "thank you so much, this is absolutely perfect," with the sweetest voice ever.
I am in Starbucks wayyyy too often. I get gift cards from my Chase purchases.. it's how I afford the little things. ;)
I convinced one of the freshman girls going on the trip that because she is a freshman she has to play with my hair the whole car ride there.. all 6 hours.. and she is totally going to :) What girl doesn't like their hair played with... and I mean.. what better way to convince a student? :)
My idea of getting ready in the morning is brushing my teeth and throwing on a tank and comfy shorts. #workfromhomeprobs
I jumped on the Candy Crush bandwagon. That game is addicting.
My husband and I have been staying up until the wee hours of the night to play Mario Kart Wii online. Every once in a while we get back into this..and then we can't stop.
Within the next 2 months I am the MOH in a wedding, planning parties, going on a Mission's Trip, making a cake for another wedding, 2 baby showers, another wedding, a vacation, my bffl is having her baby, my birthday and we are trying to buy and sell a house at the same time with our already crazy busy Ministry/Work schedule. We can do this!
Happy Wednesday friends!